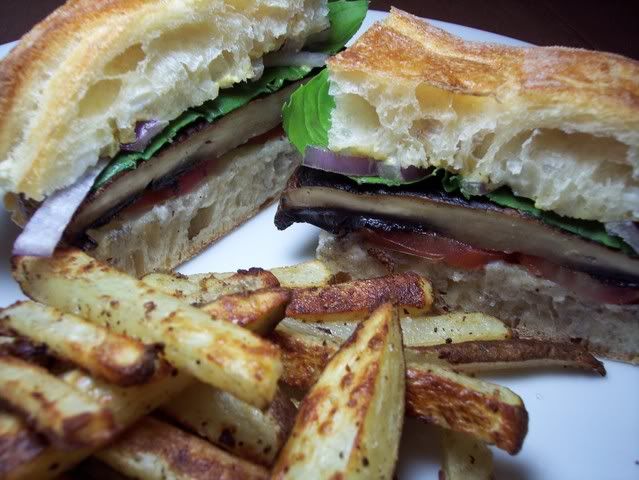 A portabella mushroom, cooked quickly on a hot skillet and sandwiched between slices of crusty bread to soak up its inky juices, is one of my greatest pleasures. And simple; it's what I eat at 10:00 p.m. when ravenous from a long day and too exhausted to make anything else. Oven fries are the perfect accompaniment.
Portabella Sandwich
For each sandwich:
2 slices bread (I used ciabatta, but sprouted grain, sourdough, or day-old foccacia are all good choices)
1 portabella mushroom
1/2 teaspoon olive oil (optional)
1 tablespoon veganaise
1 teaspoon dijon mustard
2-3 slices tomato
several slices red onion
4-6 fresh basil leaves
salt and freshly ground pepper
Heat a cast-iron skillet over high heat. Sprinkle a portabella mushroom cap with salt and pepper, and rub with a bit of olive oil, if desired. Cook for 3-4 minutes on each side, until wilted and softened slightly. Remove from heat and set aside.
Place bread on the skillet, cut side down, and toast until golden. Remove from heat, and spread with veganaise and dijon mustard. Layer with the portabella, tomato, red onion, and fresh basil leaves. Sprinkle with additional salt and pepper. Eat.