This summer, succumb to the warm lull of things and enjoy an evening with friends and family. A savory salad, grilled pizza assembled by your guests, and Italian Cornmeal Cake make good use of the season's freshest, and keep things low-key. Follow this simple make-ahead menu, and you'll be ready to host with ease.

For the Balsamic Mushrooms:
1 container (6 ounces) mushrooms, halved
2 tablespoons balsamic vinegar
2 cloves garlic
1/2 teaspoon dried basil
1/2 teaspoon red pepper flakes
1/2 teaspoon sea salt
1/4 teaspoon oregano
1/4 teaspoon ground black pepper
For the Quick Pickled Red Onions
2 tablespoons apple cider vinegar
1/2 teaspoon sea salt
1/4 teaspoon agave nectar or other sweetener
8 cups coarsely chopped romaine lettuce
1/2 cup packed fresh basil, torn into small pieces
3-4 roma tomatoes (or any tomatoes), cut into 3/4" chunks
1/2 cup black olives, halved
1 large roasted red pepper (jarred is fine), cut into strips
half recipe Balsamic Mushrooms
half recipe Quick Pickled Red Onions
2 tablespoons pine nuts, toasted if you like
1/4 cup good quality olive oil, for dressing
In separate bowls, toss together the ingredients for Balsamic Mushrooms and Quick Pickled Red Onions. Allow both to marinate at room temperature for 15-30 minutes while you assemble the rest of the salad. Drain, and reserve remaining liquid.
In a medium bowl, combine romaine and basil. Top with tomatoes, olives, red pepper strips, Balsamic Mushrooms, Quick Pickled Red Onions, and pine nuts. Cover and refrigerate until ready to serve, up to 8 hours.
In a small bowl, whisk together reserved marinating liquid from and olive oil, and serve alongside.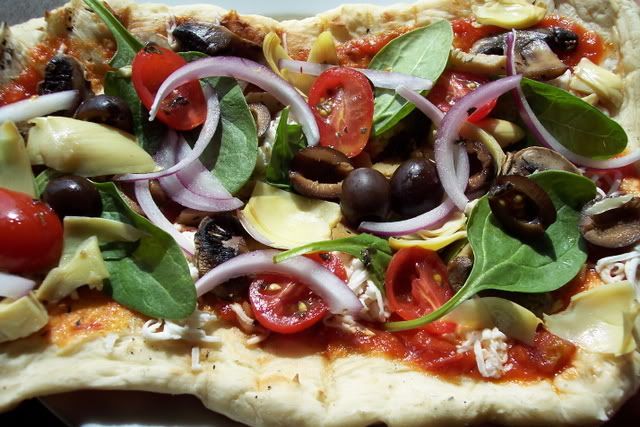 The original post for Grilled Pizza can be found
here
. To make the Garlic Infused Olive oil pictured, whisk together:
1/2 cup extra virgin olive oil
2 garlic cloves, minced or well-smashed with the flat side of a knife
1 tablespoon chopped fresh herbs
1/2 teaspoon sea salt
1/2 teaspoon ground black pepper
Offer one or more of the following combinations as pizza marinara, or pizza bianca (without sauce):
Sliced cooked potatoes, capers, fresh rosemary

Thai peanut sauce, seitan strips, thinly-sliced carrots, bean sprouts, fresh cilantro

Grilled eggplant, red onion, black olives, dollops of hummus

Roasted garlic, spinach or arugula, roasted red pepper, artichoke hearts, white beans

Caramelized onions, grilled zucchini, fresh thyme

Edamame Pesto, asparagus, sauteed mushrooms

Roasted vegetables (winter squash, cauliflower, onion), topped with Cashew Crema (below)

Heirloom tomatoes, avocado slices, fresh basil, ground pine nuts

Peppercorn Ranch Dressing, seitan or tempeh bacon, fresh corn, green onions

Cashew Crema
Crema Mexicana, a thick cream similar to creme fraiche, and Crema Agria, a tangier sort, are both familiar additions to the Mexican table. This cashew version is like the tangier Agria.
1/2 cup raw cashews
1 cup boiling water
1/4 cup water
3 tablespoons fresh lime juice
1 teaspoon apple cider vinegar
1 teaspoon sea salt
Pour boiling water over cashews, and soak for at least an hour, or up to overnight.
Drain cashews, rinse, and drain again. In a blender, combine cashews, water, lime juice, vinegar, and salt. Blend until completely smooth, scraping down the sides as necessary. This will take awhile; be patient. Scrape the crema into a small bowl, cover, and refrigerate until chilled.
The crema can be stored in a jar, refrigerated, for 3-4 days.
For the finale, dense, mildly-sweet slices of this versatile loaf. Above, with fresh fruit.
1 1/4 cups non-dairy milk
3/4 cup evaporated cane juice or sugar
1/3 cup vegetable oil
1 tablespoon plus 1 teaspoon lemon juice
1 teaspoon vanilla extract
1 cup flour
1/2 cup yellow cornmeal
1 teaspoon baking powder
1/2 teaspoon baking soda
1/4 teaspoon sea salt
Heat oven to 350 F. Oil and line a 9" x 4" loaf pan with parchment, and set aside.
In a medium bowl or 2-cup measure, combine non-dairy milk, evaporated cane juice or sugar, oil, lemon juice, and vanilla.
In a large bowl, whisk together flour, cornmeal, baking powder, baking soda, and sea salt. Pour in the liquid mixture, and gently whisk until combined and nearly free of lumps. Transfer to oven and bake 50-55 minutes. When the cake is done, the top will spring back when lightly pressed, and the edges will begin to shrink from the sides of the pan.
Cool 5 minutes in the pan, then turn out to cool on a wire rack. Once completely cool, wrap in plastic and keep at room temperature for up to 2 days.
To serve, slice into large pieces (this recipe will yield 8), dust thickly with powdered sugar, and sprinkle with pine nuts.