In many Latin American countries, November 1 is Dia de los Muertos, the Day of the Dead. Celebrants craft small
sugar skulls
, bake
Pan de Muerto
, and construct altars to remember loved ones who have died.
In the Philippines, the holiday is known as Araw ng mga Patay. Families fill the cemeteries, setting up camp near relatives' tombs. The graves are above ground, and the stone boxes receive a thorough cleaning followed by a coat of whitewash. Old flowers are replaced, candles are lit, and the family stays to share meals and converse over leisurely games of cards. This is the tradition our family follows.
Our relatives are not buried locally, and I'm terrible at cards, but El Dia festivities can take place anywhere.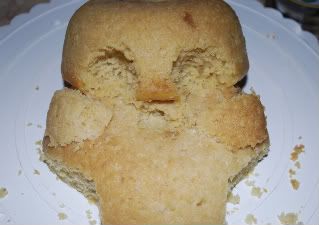 We celebrated with a calavera cake, modeled after the skull candies that line altars.
And then, a crumb coat. This thin layer of buttercream seals in any stray bits and allows you to build up any areas that need help.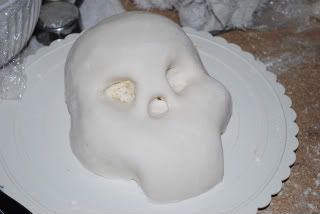 The cake is finished in rolled fondant. Vegan fondant is quite the feat, since the usual stuff contains glycerine and gelatin. My version has the same porcelain-smooth finish, but is completely free of animal products.
The calavera gets fondant rounds for eyes and a chunky fondant smile. I had intended to purchase natural food colorings, but didn't have the time. So I made my own: turmeric for gold, raspberries for red, and spirulina algae for green. Mixed with buttercream, the colors are just bold enough, and exactly what I wanted. Red roses I crafted from sugar surround the calavera.
The final touches complete, we sat down to an evening of cake, stories about loved ones who have died, and a few stiff drinks.