The celebration of a baby's first year is fairly monumental. Mine was clown themed--the likely explanation for a common phobia--and I still love seeing photos of ice cream cupcakes, ruffled edges, and large letters spelling my name.
I wanted my daughter's first birthday to be just as memorable, even if only held in her mind with old pictures and trinkets. The best parties have a theme: fairies, animals, motorcycles. Miss One doesn't yet voice opinions on these things, and her birthstone is citrine, so I decided simply on
orange
. This was echoed throughout, from favors to decorations. Of course, everything had to be vegan. And since it's not a proper party without plenty of family and friends, we returned to my favorite city, Los Angeles. I hope you'll forgive the many photos; I want to share as much of this lovely day as possible!
Come inside and see how we celebrated...
Our birthday angel, looking quite like [nerd alert!] Arthur, the moth sidekick from
The Tick
, here.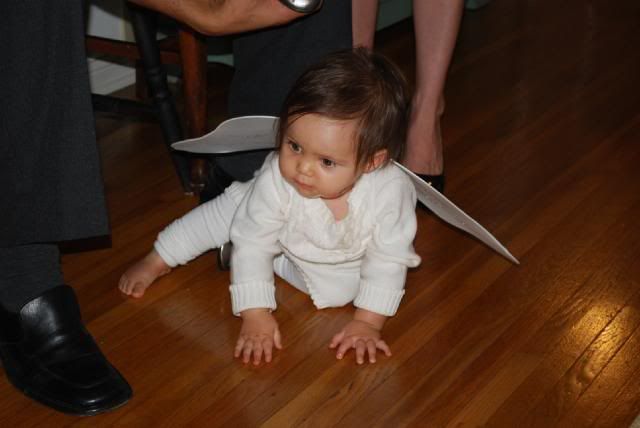 Guests received treat bags filled with homemade play-dough, bubbles, vegan candies, photos, and cards for writing hopes and blessings for G's life. We'll bind those and give them to her when she's older.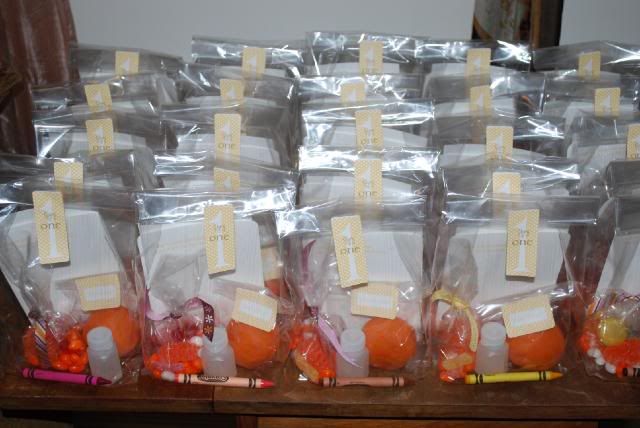 Play-dough, up close. Adults and children had fun playing with it. The recipe for Cooked Flour Play-Dough can be found at
Nature Moms
.
The table, featuring simple vegan treats: a vegetable tray with hummus, apple pie,
Pumpkin Scones
, and of course, cake.
The cake was two tiers of orange-infused
Italian Cornmeal Cake
filled with Whipped Truffle Frosting and Creamsicle Buttercream. Pale orange White Chocolate Fondant covers the confection. Representing the sweetness and joy of growing older, the cake is adorned with buttercream reeds and a single, leaf-encircled candle.
I made a miniature, slightly healthier cake for the birthday girl, who gave it a good stare before proceeding to--very delicately--spread frosting all over the tablecloth.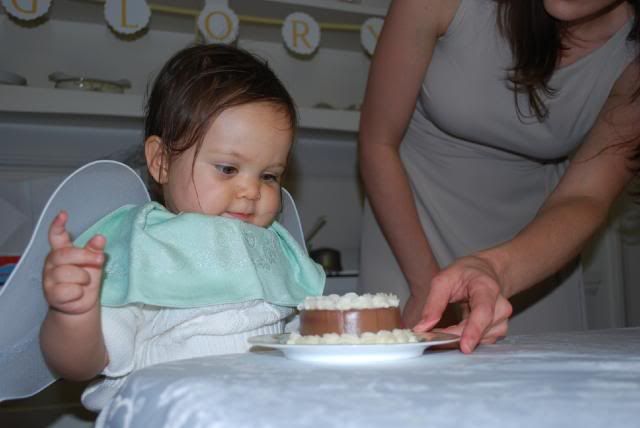 Someday I'll throw Miss One a cocktail party on her birthday, but for now I've kept the libations alcohol-free: coffee, tea, and a lemony-vanilla apple punch I like to serve in autumn.
I'm almost embarrassed to call this a "recipe"--it's so simple--but gets such fantastic reviews I'd like to share it with you.
Harvest Apple Punch
about 16 servings
1 bottle (750 mL) sparkling apple cider
1 bottle (750 mL) unflavored seltzer or sparkling water
1 can frozen lemonade, partially thawed
1 six-pack cream soda or vanilla flavored soda
Pour everything into a large punch bowl, stirring gently to combine. Serve immediately, with ice on the side.
We ended the afternoon with a slideshow, exhortations to take treat bags, and cake-filled bellies swaggering home. I am so glad I threw a big party for my girl's first, and so pleased to share it with family and friends. She'll certainly have the leftover bits and pieces--photographs and good wishes and miniature play-dough statues--to savor when she's older.