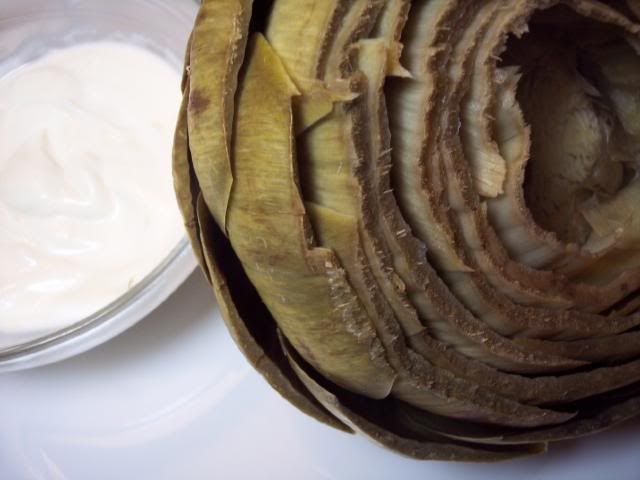 Among the season's best peas, arugula, fava beans, and cherries, my husband discovered another Spring gem at the farmer's market this weekend: the artichoke. We've all had them canned or packed in oil--usually in "baby" form--amidst other foods, but this earthy flower deserves a plate of it's own.
This month, splurge on a few artichokes, and enjoy their meaty texture with some Lemon Mayonnaise alongside. Look for artichokes with tightly-woven leaves that feel heavy for their size. Rub the leaves together; they should squeak when you do. And pass on an artichoke with cracked, feathery tips, an indicator the vegetable is past it's prime.
Spend some time preparing the artichokes, and your guests will be rewarded with easier plucking, and--the best part--complete avoidance of that awful fuzzy choke. First, cut off the upper quarter of the vegetable. Then, using kitchen shears, slice off the tip of each leaf, rotating the artichoke until they're all trimmed. Part the smaller center leaves, and begin pulling away the purplish bits until you reach the choke. When you do, remove as much as possible with a melon baller. Continue scraping at the center until you've revealed the much-desired heart, then squeeze lemon juice into the opening to prevent browning. Flip over, and trim the stem to a 1" length.
Cook artichokes stem up in 1" of simmering water, covered, for 25-30 minutes. The water can be flavored with a smashed clove of garlic, lemon juice, or a sprig of herbs, if you like.
When done, the artichoke should be very tender, and the bottom leaves will easily separate if tugged gently. Remove from water and pat dry. Serve hot, with Lemon Mayonnaise or good-quality olive oil and a sprinkle of salt for dipping.
The artichokes can also be chilled and tucked into tomorrow's lunchbox.
For every two people, whisk together:
1/4 cup veganaise
1/2 teaspoon lemon zest
1 tablespoon lemon juice
Dip each leaf into the mayonnaise, and scrape the tender flesh from the underside using your teeth. Be sure to provide a receptacle at the table for eaten leaves. When you reach the heart, eat it with a knife and fork.
There's something very retro, very glamorous, about having an artichoke--and just that--for supper. The perfect accompaniment? A classic cocktail. Don't even consider one of those abominations of intoxication: the lemon drop, the apple-tini. Keep it simple with a vodka martini, dry, with many olives.