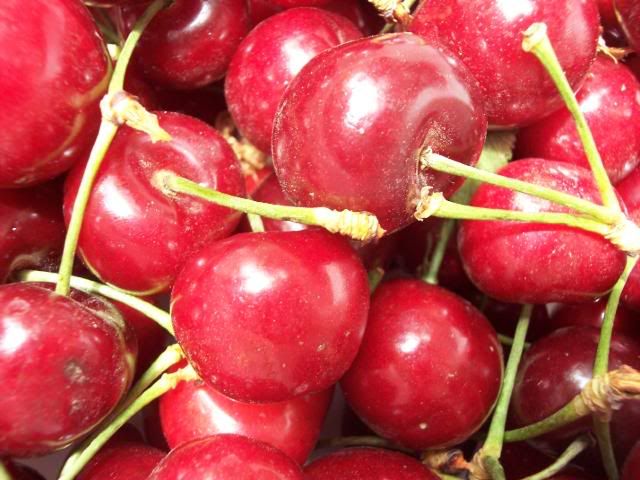 Valentine's Day doesn't have to be a mad, commercialized production, and you don't even need a date! Really, holidays are simply an opportunity to do things with family and friends that you've always wanted to do. Join me on
Veganfreak Radio
as I talk with hosts Bob and Jenna Torres about a lovely menu for the occasion.
The meal features deep, earthy flavors: Wild Rice and Mushroom Soup with Vermouth, Heartbeet Salad, and Hazelnut Cherry Brownies with Port Glaze. I also chat about Ganache, the decadent marriage of coconut milk and dark chocolate, which can be used in so many ways. The recipes are from my upcoming cookbook,
Cook, Eat, Thrive: Vegan Recipes from Everyday to Exotic
, and I've included them below.
Wild Rice and Mushroom Soup with Vermouth
6-8 servings, since soup should always have leftovers
This soup is incredibly sexy. Mushrooms are earthy and raw, which points to inhibition, while vermouth is evocative of martinis, the ultimate sexy drink. Together, these ingredients create a dark, steamy broth to be enjoyed with someone you love. Add a pinch of cayenne for extra heat.
1 tablespoon olive oil
½ medium onion, diced
5 cloves garlic, minced
2 pounds assorted mushrooms (I like a combination of cremini, button, and portabella), wiped clean and sliced
3 tablespoons vermouth (dry sherry is a fine substitution)
¾ cup wild rice
4 cups mushroom or vegetable broth + 2 cups water
1 teaspoon sea salt
½ teaspoon dried thyme
½ teaspoon ground black pepper
In a large stockpot over medium-high heat, sauté onion and garlic in olive oil until softened and the onions go translucent, 3-5 minutes. Add mushrooms, along with a generous pinch of salt. The mushrooms will remain firm and dry for several minutes, then begin to sweat, and eventually soften and release their liquid. Stir gently throughout this process, which will take about 5 minutes. Once this happens, cook 5 minutes more. Drizzle in vermouth, and cook for another 3 minutes.
Add the wild rice to the mixture; it will still be full of dark liquid that hasn't yet evaporated. Cook, stirring constantly, for 3-5 minutes more. Add stock, water, salt, thyme, and pepper. Bring to a simmer, then reduce heat to low. Cover, and simmer until rice is fully cooked, about 45 minutes.
Ladle into warmed bowls and serve with a hearty loaf of bread.
Heartbeet Salad with Pumpernickel Croutons and Chevre
4 servings
Light, tangy dressing cuts the richness of a salad heaped with roasted beets, croutons, and tangy cheese. Make the Chévre, Pumpernickel Croutons, and Champagne Vinaigrette up to a week in advance for easy assembly.
For the Salad:
3 large beets
4 slices pumpernickel bread, cut into 1" cubes
1 tablespoon olive oil
2 teaspoons minced flat-leaf parsley
½ teaspoon sea salt
8 cups (1 6 ounce bag) spring greens
½ recipe Chévre
For the Champagne Vinaigrette:
¼ cup champagne vinegar (white wine vinegar is a fine substitution)
¼ cup extra-virgin olive oil
1 teaspoon Dijon mustard
½ teaspoon salt
¼ teaspoon ground black pepper
Prepare the beets:
Pierce beets all over with a sharp knife, and wrap tightly in foil. Place on a baking sheet or shallow baking pan, and roast at 375º F until fork tender, about 1 hour. Allow beets to rest until cool enough to handle. Slice beets into 1/3" thick slices—there's no need to peel them. Use aspic cutters or miniature cookie cutters to make heart shapes. Alternately, cut each slice into quarters (creating the bottom "v" of the hearts), and carve the tops into heart shapes with a paring knife. Set aside until ready to use. The beets can be prepared up to 2 days in advance and refrigerated.
Make the croutons:
On a baking sheet, toss together bread, olive oil, and parsley. Sprinkle salt over, and toss again. Toast in the 375º F oven along with beets until golden-brown, 10-15 minutes. Set aside to cool while you make the dressing. The croutons can be made several days in advance, and store well in an airtight bag at room temperature.
Make the Vinaigrette:
Whisk together champagne vinegar, olive oil, mustard, salt, and pepper. Refrigerate until ready to use.
To Assemble:
Arrange greens on a largish, shallow platter. Crumble dabs of Chévre over, and top with beet cutouts and croutons. Drizzle with a bit of vinaigrette, serving the rest on the side.
Chévre
2 8" logs
Serve dabs of this handmade semi-soft cheese in Heartbeet Salad, or on crackers, fresh vegetables, or sandwiches. Its creamy tang is also excellent in recipes where cream cheese is called for.
2 tablespoons agar flakes
½ cup water
1 ½ cups raw cashews
3 cups boiling water
½ cup water
2 tablespoons fresh lemon juice
1 tablespoon tahini, preferably raw
1 tablespoon apple cider vinegar
1 ¼ teaspoons sea salt
In a small saucepan off the heat, combine agar and ½ cup water. Set aside to dissolve while the cashews soak. The agar flakes will enlarge slightly and take on a pale cast.
Pour boiling water over cashews, and soak for at least an hour, or up to overnight.
Line a shallow container (a 9"x 9" or 9"x 13" casserole dish is ideal) with plastic wrap, allowing it to hang over the sides slightly. Set aside.
When you're ready to proceed, place the agar mixture over low heat, stirring occasionally as you put together the cashew mixture.
Drain cashews, rinse, and drain again. In a blender, combine cashews, ½ cup water, lemon juice, tahini, vinegar, and salt. Blend until completely smooth, scraping down the sides as necessary. This process should take about 5 minutes while the agar mixture bubbles away.
Once the cashew mixture is smooth, scrape the agar mixture into the blender with the machine running. Continue blending until completely smooth.
Scrape into the plastic-lined container, smoothing the top. Cover loosely and refrigerate until firm, about 1 hour.
Once fairly solid, divide the Chévre in half. Using the plastic, shape each section into a cylinder about 2" in diameter and 8" long. Wrap tightly in plastic, and chill until ready to use.
The Chévre can be stored in the refrigerator for up to a week.

Hazelnut Cherry Brownies with Port Glaze
16 small brownies
If you plan to serve the brownies the following day, use ½ cup dried cherries instead of fresh or frozen, which will cause the bars to liquefy into a gooey confection on sitting.
This recipe makes twice as much Port Glaze as needed for the brownies. Use the reminder as a chocolate sauce for sundaes or fresh fruit; heat it briefly until it reaches a pourable consistency. Whisked into hot non-dairy milk, it also makes a divine hot chocolate.
2/3 cup vegetable oil
1 ½ cups evaporated cane juice or sugar
¾ cup non-dairy milk
2 teaspoons vinegar
1 teaspoon vanilla extract
¾ cup unsweetened cocoa
1 ¼ cups all-purpose flour
1 ½ teaspoons baking powder
¾ cup pitted and halved fresh cherries (frozen and thawed is a fine substitution)
½ cup whole hazelnuts
Heat oven 350º F. Oil and flour a 9"x9" square baking pan. In a large bowl, combine sugar, non-dairy milk, vinegar, and vanilla. Whisk in cocoa, flour, and baking powder until batter is smooth and even. Fold in cherries and hazelnuts. Pour batter into prepared pan, smoothing the top.
Bake 35-40 minutes, or until brownies just begin to slink away from the sides of the pan, and the center is no longer sticky. Allow to cool completely in the pan while you make the glaze.
When glaze is the proper temperature, spread half of it over the brownies, reserving the remainder for another use. It will take ages to set completely, so just wait until it's no longer runny (about 30 minutes) before cutting into 16 pieces.
Port Glaze
½ cup port
¼ cup coconut milk
6 ounces semisweet chocolate, roughly chopped (semisweet chocolate chips are an okay substitution)
In a microwave-safe container with high sides (a pyrex 2-cup measure is ideal), reduce the port down to half. 3-5 minutes on High power should do it. Alternately, heat in a saucepan over medium heat until reduced by half. Pour the coconut milk into the container, stirring as you do. Return to the microwave or saucepan and heat until the mixture just begins to bubble, 1-2 minutes. Alternately, reduce the port to half in a small saucepan on the stovetop; this should take 5-7 minutes. Add the coconut milk, and simmer for 2-3 more minutes.
Add the chocolate to the port mixture. Allow to sit undisturbed for about 3 minutes. Stir gently with a spatula until the mixture is smooth and all chocolate is melted. Cool slightly before using. To test for proper spreading temperature, touch a bit of the glaze just above your top lip (use your chin if you have a mustache); it should feel about the same temperature as your skin.
Enjoy! And this Valentine's, celebrate by sharing a meal with those you love.