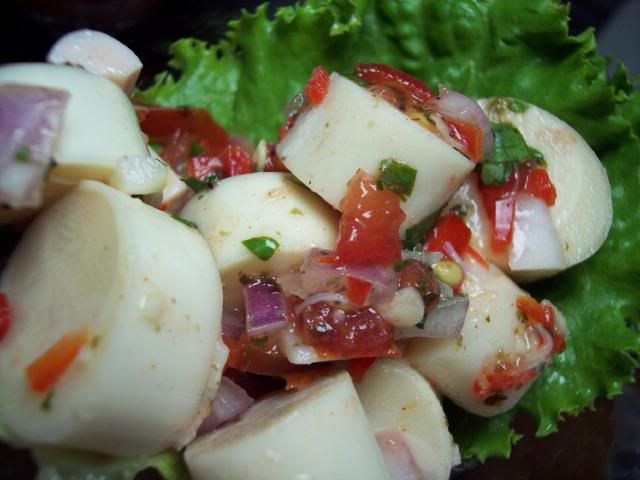 There is so much I've wanted to post lately, but after having a refreshing dish of Palm Heart Ceviche for lunch, I couldn't resist sharing it.
Served in many Latin American coastal areas, ceviche is "cooked" with a piquant marinade. Ceviches vary widely according to region: in Peru, where it's considered the national dish, ceviche is served alongside sliced sweet potatoes, while Ecuadorians use bitter Seville oranges and garnish it with crisp corn. The Mexican version is accompanied by raw onion slices and mounded on toasted tortillas. Accompany the ceviche with any of the garnishes below, or serve it in a variety of ways: on tortilla chips as you would salsa, with fresh chopped greens in a salad, or as a garnish for gazpacho. As summer approaches, it's a perfect fresh, flavorful dish to enliven your afternoon meal.
Unlike traditional ceviche, this version uses hearts of palm instead of fish or scallops (although it looks quite like the latter), and fuses several traditions. A blend of citrus juice mimics the pucker of Seville oranges; be sure to strain the juice, as the pulp (particularly lime pulp) can add undesired bitterness.
Palm Heart Ceviche
4 appetizer servings
1 (14 ounce) can palm hearts
¼ cup fresh lemon juice
¼ cup fresh lime juice
¼ cup fresh orange juice
2 cloves garlic, minced
1 tablespoon red onion, minced and well-rinsed in cold water
1 tablespoon coarsely chopped cilantro
1 roma or plum tomato, diced
½ jalapeno pepper, seeds removed and minced
½ teaspoon sea salt
one 2" x 2" piece of nori (a generous pinch of Arame is a fine substitution), ground to a powder in a coffee grinder or mortar and pestle
dash paprika (optional)
At least two of the following garnishes:
kernels cut from 1 cob corn
½ pound cooked sweet potatoes, cut into ½" chunks
½ cup diced red pepper
½ cup loosely packed cilantro, roughly chopped
1 cup popped popcorn
Cut the hearts of palm into ¾" slices, and place in a large bowl.
Whisk together the juices, onion, tomato, garlic, jalapeno, cilantro, salt, pepper, and paprika. Pour over the palm hearts and gently toss to combine. Refrigerate, and allow flavors to meld for at least 30 minutes and up to 2 hours.
Serve in small glasses or martini glasses lined with romaine leaves, garnishes alongside. If preparing Palm Heart Ceviche in advance, use only half the onion, as it will intensify on sitting.
I suspect the ceviche would be excellent paired with a crisp white wine or chilled tequila. Enjoy.