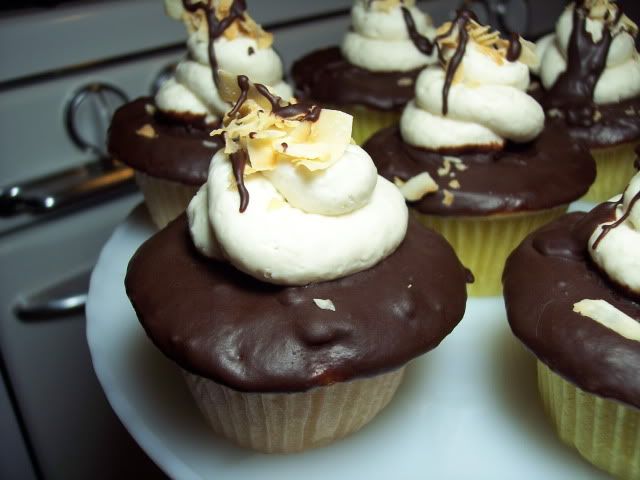 Or,
The Luau That Wasn't
The afternoon started simply enough, with plans to attend a neighborhood block party. There would be veggie burgers, promised the man who approached us at the corner coffee shop, over 200 people, and a drum circle. And it would be
luau-themed
.
A luau always sounds really lovely (I'm not ashamed to admit I like poi), until I remember that it tends to feature a dead pig, swathed in some kind of macabre lacquer and robbing tabletop hula girls and plastic grass decorations of their campy-cuteness. But I am not deterred, because 1) my Pineapple Coconut Cupcakes distract a lot of people from dead pigs, and 2) DRUM CIRCLE. I popped a tin of cupcake batter into the oven, and smiled at the image of distributing tender, airy cupcakes to the neighbors from a vintage platter. Like Mother Theresa. Maybe I would even put tiny umbrellas on top.
Then the air turned electric, and the weather shifted. There was lightening. Thunder. In sky-shaking booms that sent the cats running under furniture and made it evident that
there would be no luau
.
In view of hard falling rain, my jaunty Pineapple Coconut cupcakes seemed somehow vulgar and exhibitionist. I put the pineapple back on the shelf, made some ganache, and created an homage to the storm overhead complete with coconut clouds and a drizzle of chocolate rain. And it was delicious.
To make these cupcakes, dip any white cupcake in Ganache (see recipe below, and for more on Ganache, listen to
this interview
), and allow to set until soft but not tacky, 20-40 minutes. Top with a swirl of any buttercream, to which you've added a few handfuls of dried unsweetened coconut. Sprinkle with toasted coconut--I like the flaked variety for this--and drizzle with additional ganache. That's all, and you don't even need a pastry bag to pipe the buttercream; just use a plastic bag with the corner cut off.
Ganache
8 ounces good-quality semisweet chocolate, roughly chopped (semisweet chocolate chips are an okay substitution)
1/3 cup full fat coconut milk
1/2 teaspoon vanilla extract or other flavoring (optional)
Place chocolate in a medium bowl, and set aside.
In a small saucepan, heat the coconut milk over medium heat until bubbles form at the edges. Pour over the chocolate, and allow to rest for 5 minutes. Add any extracts or flavorings at this point, but do not stir.
Using a flexible spatula or spoon, make small circles in the center of the mixture. The chocolate will slowly begin to combine. Continue mixing gently until it all comes together. Try not to incorporate too much air into the mixture, as this will create small bubbles that mar the finish of poured ganache.
Allow the ganache to rest again, about 10-15 minutes. It is ready for use when a spoonful dropped into itself smoothes out, but its warmth is about that of body temperature.
I am anxious to share with you my recipe for Perfect White Cupcakes, but am going to wait until I've solved the matter of What To Do With An Extra Cupcake's Worth Of Batter*, which really prevents the cupcakes from being "Perfect." I'll try to get it up soon, which I suspect will mark the week you decided it was a fine idea to add 10 pounds to your frame.
*An extra cupcake is kind of like a third nipple. It's not entirely bad, but really, what are you going to do with it? If you have any ideas (for the batter, not the other, please) let me know. I usually bake it alongside in a 3" pan, but it seems silly to specify that in a recipe.