A few years ago, I had the great fortune of living in a tiny apartment in a large
mansion
. The estate housed several acres of sprawling gardens, designed in the English style. Most afternoons were spent walking through them, across paths lined with dahlias and cosmos, and through a lane shaded by apple and cherry trees, and into a circular rose garden punctuated with flamboyant peonies (I love peonies!). My favorite part was a labyrinth of sturdy pergolas, dripping with age-old grape vines.
In Autumn, the vines sagged with Concord grapes demanding to be picked. So we picked them, pounds and pounds of grapes, with which I made sorbets and glazes, and dehydrated them into raisins. Concords have a rich, spicy flavor and spectacular purple color, so juicing them is an excellent way to preserve their jammy goodness. The juice can be frozen for use in later months, which is what I did here. Of course, if you don't have grape arbors in your backyard, bottled concord grape juice is a good approximation of fresh, and you can make this sorbet year round. Look for a brand with 100% of the Concord variety, rather than a blend of other juices.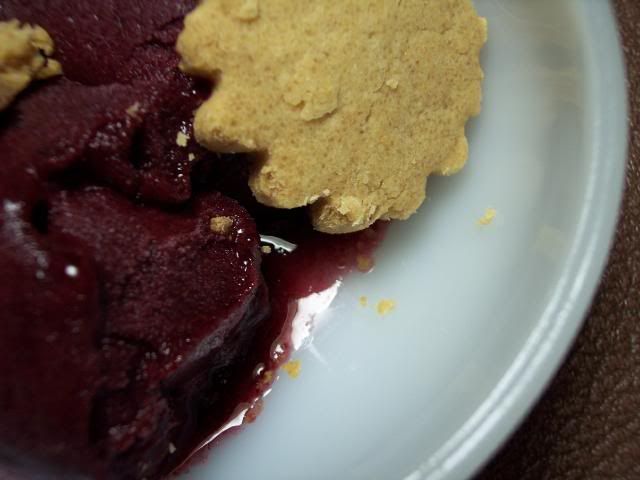 If this looks like a peanut butter and jelly sandwich, that's the idea. Except the peanut butter is rich, sandy shortbread, and the jelly is grape sorbet, fragrant with red wine. Serve tossed into a bowl, or smashed together, sandwich-style, and you won't mind being a grownup, not one bit.
Peanut Butter Shortbread with Concord Grape Sorbet
18-20 small cookies
½ cup non-hydrogenated shortening
½ cup creamy peanut butter
¾ cup evaporated cane juice (try it with brown sugar, too)
½ teaspoon vanilla
¼ teaspoon sea salt
2 cups all-purpose flour
Corcord Grape Sorbet (below), for serving
In the bowl of a stand mixer, or in a medium bowl using a hand mixer, beat together shortening, peanut butter, and sugar until pale and creamy, about 2 minutes. Add vanilla and sea salt, and beat again.
Slowly add flour, beating at low speed until combined. The dough will appear crumbly and separated, but should hold together when pressed. If it remains crumbly, add water by the teaspoon until it becomes sufficiently clumpy.
On a lightly floured surface, pat, then roll dough 1/3" thick. Cut shapes with cutters, or simply cut into wedges. Using a thin metal spatula, gently lift and place 1" apart on an ungreased cookie sheet. Refrigerate for 15-20 minutes, which will ensure crisp, defined shapes.
Bake at 325ºF for 20-25 minutes. The shortbread should be very lightly browned on top, but not at all dark. Transfer to a wire rack and cool completely.
The shortbread will keep, at room temperature in an airtight container, for up to a month.
Concord Grape Sorbet
About 1 pint
2 cups Concord grape juice
2 tablespoons agave nectar
2 tablespoons cabernet sauvignon, or other jammy red wine
generous pinch sea salt
Stir together all ingredients and refrigerate until thoroughly chilled.
Freeze in an ice cream maker according to manufacturer's instructions.
To serve, make small scoops of sorbet and sandwich them between rounds of Peanut Butter Shortbread. Serve immediately, or freeze for up to a day before serving. If you do the latter, allow them to sit for a few minutes for the sorbet to reach a pleasantly soft texture.