The beginning of the new year is the perfect time to reflect on a Christmas meal with nostalgia, already longing for the next. This past holiday, I hosted some of the season's best flavors: pomegranate, sage, apples...
The meal started with an amuse bouche, a few bites of Pomegranate Pear Sorbet.
Pomegranate Pear Sorbet
about 1 quart
seeds from 1 pomegranate
1 cup water
1 cup apple juice
4 pears, peeled, cored, and cut roughly into pieces
1 teaspoon lemon juice (optional)
generous pinch sea salt
pomegranate seeds, (optional, for serving)
In a blender (a food processor tends to leak), blend pomegranate seeds, water and apple juice until pomegranate seeds are just broken. Strain through a fine sieve directly into a saucepan. Bring to a simmer over medium-low heat, and cook until reduced by one third, 6-8 minutes. Transfer syrup to a bowl and refrigerate until thoroughly chilled.
Return syrup to blender, and add pear pieces, lemon juice (if using), and sea salt. Process until completely smooth. Refrigerate blended mixture until very cold, then freeze in an ice cream maker according to manufacturer's directions. Scoop into small cups and sprinkle with pomegranate seeds before serving.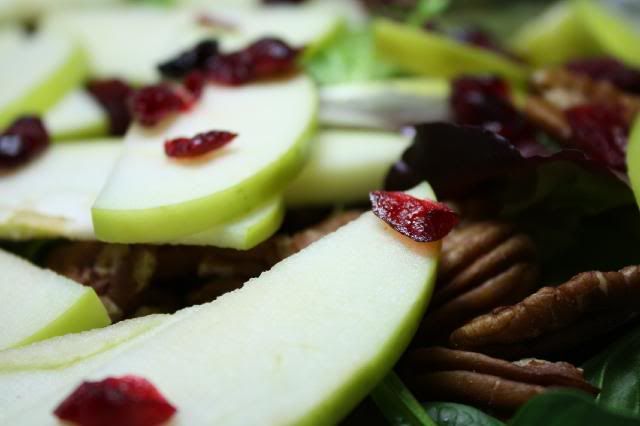 A simple salad of greens, pecans, dried cranberries, and apples.
Sweet Potato Rolls, which make excellent French toast the next morning.
Smoked cheddar cheese ball. Don't you love a holiday that celebrates food in "ball" and "log" form?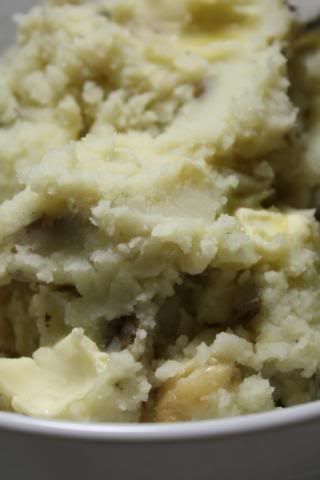 Mountains of roasted garlic smashed potatoes, with green beans roasted in orange and almond (not pictured) alongside.
The monochromatic gleam of Seitan Roast with Agave Apples and crisp yuba skin.
Apricot Chestnut Dressing served alongside the roast. While not a pretty picture, it makes an excellent filling for seitan roulade.
Apricot Chestnut Dressing
12-16 servings
½ cup (1 stick) vegan margarine
1 large onion, diced
3 ribs celery, diced
1/3 cup finely chopped parsley
1 ½ teaspoons dried sage
1 teaspoon dried thyme
½ teaspoon sea salt
½ teaspoon ground black pepper
½ teaspoon ground nutmeg
1 pound dried bread cubes, in ½" pieces
2-3 cups vegetable broth
1 ½ cups chestnuts, coarsely chopped
½ cup dried apricots, coarsely chopped
Heat oven to 350º F.
In a large saucepan or stockpot, heat vegan margarine until bubbling. Add onion and celery, and cook until tender, 3-5 minutes. Add parsley, sage, thyme, salt, black pepper, and nutmeg, stirring well to combine. Turn off the heat, and add bread cubes, gently tossing until coated with seasonings. Drizzle vegetable broth over, a bit at a time, gently folding the mixture until everything is moistened.
Allow the dressing to rest—this part is important—for 15-20 minutes. This will allow the bread cubes to absorb the liquid and ensure a proper texture. Taste the dressing; if the bread cubes are still crunchy in the center, add another ½ cup vegetable broth and toss again. Repeat this until bread is adequately moist.
Transfer saucepan or stockpot to oven and bake 30-40 minutes, until the top is golden brown and the stuffing fragrant.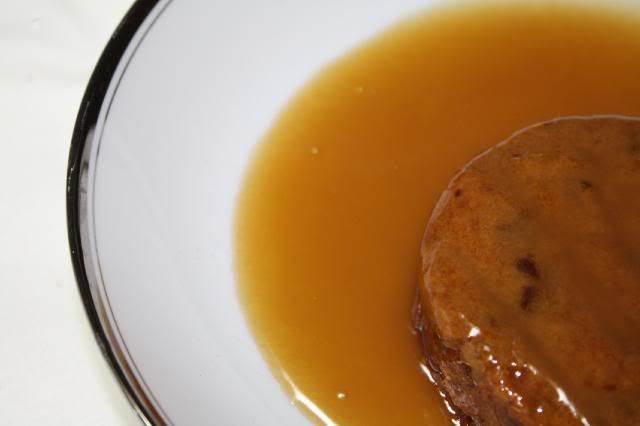 The meal had a sweet ending with
Sticky Toffee Pudding
, pictured with its concentric ring of toffee sauce.