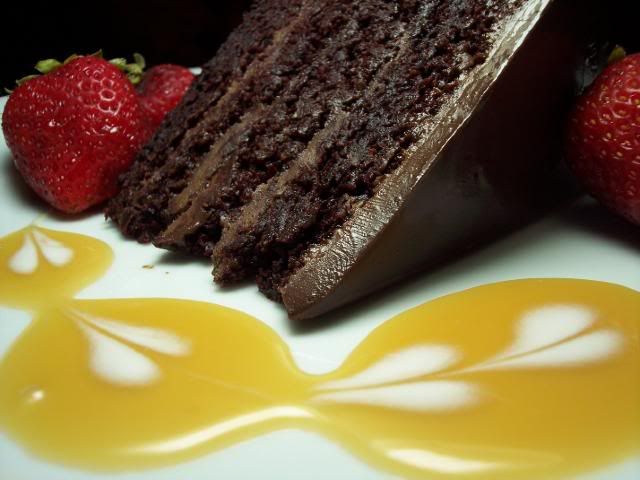 Chocolate Truffle Cake, covered in Ganache and served with
Coconut Caramel
.
This Valentine's Day, treat yourself and the ones you love to luxuriously simple Ganache. Use it to create a flawless finish on cakes. Dip strawberries, banana chunks, and vegan marshmallows into warm ganache for a decadent fondue. Or whisk in hot almond milk for rich, smooth hot chocolate. However you use it, you'll find a little goes a long way, and it won't take much to satisfy your sweet tooth and impress your guests.
If you want to make a full meal for Valentine's, see
last year's post
, which includes recipes for Wild Rice and Mushroom Soup with Vermouth, Heartbeet Salad with Pumpernickel Croutons and Chévre, and Hazelnut Cherry Brownies with Port Glaze.
The bit below on ganache is from my forthcoming book
Cook, Eat, Thrive: Vegan Recipes from Everyday to Exotic
, and gives tips on the hows and whys of perfect ganache.
Ganache
About 2 ½ cups
Ganache is one of those things that seem terrifying, and then you try it once and wonder why you haven't eaten it for supper every night.
This concoction is incredibly versatile, and can cost very little per batch, depending on the quality of chocolate you choose.
1 pound (16 ounces) good-quality semisweet chocolate, roughly chopped (semisweet chocolate chips are an okay substitution)
¾ cup full fat coconut milk
1 teaspoon vanilla extract or other flavoring (optional)
pinch sea salt (optional)
Place chocolate in a medium bowl, and set aside.
In a small saucepan, heat the coconut milk and sea salt (if using) over medium heat until bubbles form at the edges. Pour over the chocolate, and allow to rest for 5 minutes. Add any extracts or flavorings at this point, but do not stir.
Using a flexible spatula or spoon, make small circles in the center of the mixture. The chocolate will slowly begin to combine. Continue mixing gently until it all comes together. Try not to incorporate too much air into the mixture, as this will create small bubbles that mar the finish of poured ganache.
Allow the ganache to rest again, about 10-15 minutes. It is ready for use when a spoonful dropped into itself smoothes out, but its warmth is about that of body temperature.
Understanding Ganache
Classic ganache is made with a 1:1 ratio of heavy cream and bittersweet or semisweet chocolate. Heavy cream is about 36% fat, while coconut milk contains approximately 25%. While a good ganache can be made with equal parts chocolate and coconut milk, reducing the latter allows it to set more easily.
Some cooks add chocolate to liquid--which I certainly do if pressed for time, or when I want to avoid chopping chocolate by using chips instead of bars; this is simply a matter of personal preference.
Flavoring Ganache
Ganache can be flavored easily and quickly with extracts (vanilla, almond, peppermint), or liqueurs (amaretto, port, rum).
To add complexity of flavor to ganache beyond simple vanilla, infuse it with one or more flavorings. Citrus zest, loose tea, whole spices, herbs, and edible flowers are excellent choices.
There are two methods for imparting these flavors:
In hot infusion, the liquid is scalded, then ingredients are added. After 30-60 minutes, the flavored liquid is strained, reheated if necessary, and poured over the chocolate. This is the best choice if time is a consideration.
In cold infusion, flavorings are added to cold liquid and refrigerated overnight, then strained, heated, and poured over the chocolate. The advantage here is that since the flavor extraction doesn't involve heat, the nuances remain very pure, with no harsh overtones. If you have the time, or want a tea infusion without wicked tannins, this is an excellent choice.
To use as poured Ganache:
Coat your cake with a thin layer of icing or ganache to catch any crumbs, and refrigerate briefly until tacky to the touch. When the prepared ganache has reached the right temperature (see above), place your cake on a baking rack set above a pan. This will catch the excess, which can be reused. Pour the ganache over the center of the cake, allowing it to cascade down the sides. Shake the baking rack slightly to help it along. Keep a small offset spatula ready to smooth any areas on the sides that remain uncovered, but leave the ganache as undisturbed as possible.
To frost cupcakes, simply dip into the ganache, and turn slightly as you lift for a perfect finish. Whether frosting large or small cakes, allow to set completely before decorating further or eating.
And since it's Valentine's, have some fun with the stuff! I'll bet you can figure out what to do with it. Keep some in a jar in the refrigerator, gently re-warm in the microwave or in a bain marie (water bath), and you'll be ready whenever the mood strikes.
Have a happy and decadent Valentine's Day!